Duplicate Image Remover
If you have a computer full of duplicated photos, you want a fast and easy way to get rid of the extras on the computer so that they aren't taking up your hard space, right? Well, one of the very best programs that is out there on the market is called Image Comparer. It is a duplicate image remover program. Unfortunately, it's only a free trial and you have to buy it after that, but it's still a great program.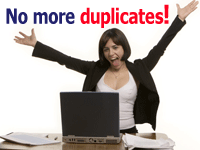 It's very easy to install and use Image Comparer, and once you have tried it, you will find yourself wanting to buy it because it is really that simple. Image Comparer searches your computer for duplicate photographs and will remove them for you in no time flat.
There is no better way to find and remove duplicated photos than Image Comparer - it takes the guess work out of removing duplicate photographs. You know that you are using a safe and secure way to find photos that are the same on your computer.
Anyone can use Image Comparer, from the computer novice to the computer expert. With any type of experience, they will find that removing duplicate photographs is easy. After all, you don't want to have a lot of the same photographs on your hard drive do you?
It's important to have a duplicate image remover on your computer that is easy to use and that will remove the duplicated images quickly and easily, and you get all that with Image Comparer. Just put Image Comparer on your computer and run the scan with it to find out how many images on your computer have been duplicated and Image Comparer will get rid of them just like that.
When you are looking for a duplicate image remover, it's important to look at the track record of the programs that you are thinking of using, look at the reviews and how many people were satisfied with it. That will help you to choose the program that will be best for your needs.
And when you have looked through all the data, I'm sure you will find that Image Comparer is the way to go and that you will be very happy with the results that you will get from Image Comparer. No other duplicate image remover comes close to its level of standards and no other duplicate image remover does the great job that Image Comparer does. There is no better duplicate image remover.
Related pages:
Paid Version Benefits:
FREE technical support
FREE updates
No time limits
No nag screens
No feature limits