Bolide Movie Creator - Light Video Editor
Are you looking for an easy and powerful video editing software? Look no further than Bolide Movie Creator. It is the perfect tool for creating outstanding movies and videos. With our intuitive and user-friendly interface, you can quickly and easily create stunning videos.
Bolide Movie Creator offers a range of features to help you get the most out of your movie making experience. Our tools let you add titles, subtitles, transitions, and effects to your videos. You can also trim, crop, and combine clips to make your movie look even better.
With Bolide Movie Creator, you can save your videos in a variety of formats, including MP4, AVI, MKV, and GIF. And with our sharing capabilities, you can easily share your videos on YouTube, Facebook, and other social media sites.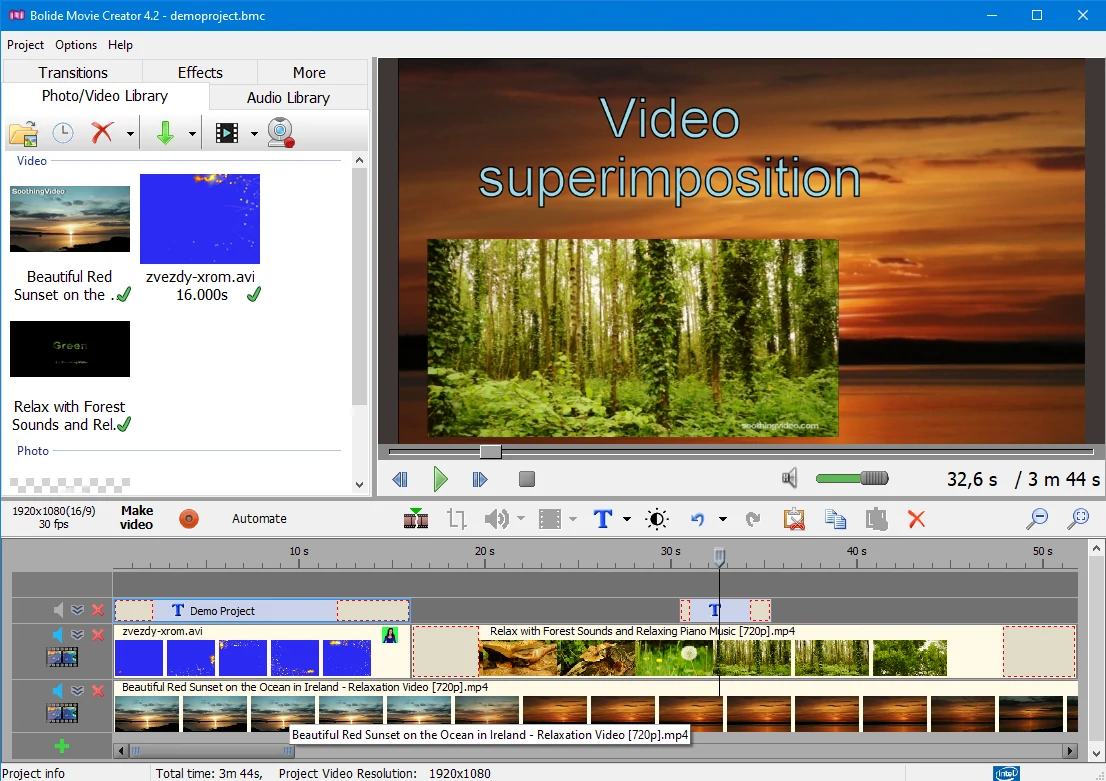 Video Editing Features
An intuitive and straightforward user interface
Drag and drop video clips for effortless video editing
Add photos to combine with video episodes
Split your clips into several parts to remove the ones you don't need
Powerful video editing tools for trimming, cropping, and merging clips
Add transitions and effects to give your movie a professional look
Add music and sound effects to your movie
Add animated titles, credits, and captions to your movie
Overlay images or other video clips over the video
Customize video playback speed and get various effects
Create a unique look with color correction tools
System Requirements
Bolide Movie Creator can work with the following minimal requirements.
Windows Vista or higher
4GB of RAM
50MB of hard disk space
To get better performance, we advise using SSD for source files and having a graphics card manufactured at least in 2018 to use hardware acceleration of the final video encoding.
Pricing
The free trial version available for download here has no time and no functionality limit, but the saved video files have a watermark in the corner. The licensed version of the Bolide Movie Creator is available from $9.95.
Support
Comprehensive help and support is available on the Bolide Movie Creator website. Lots of "how-to" articles are available in our video editing guide.
Bolide Movie Creator is the easiest and most powerful way to create high-quality movies on your computer. It offers a wide range of features and tools to help you create movies in minutes. Whether you're a beginner or an experienced moviemaker, Bolide Movie Creator has the features you need to make the perfect movie.
Don't wait any longer, get Bolide Movie Creator today and start creating wonderful movies and videos.