Do You Need Duplicate Picture Finder?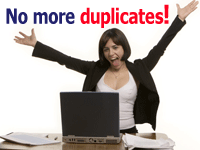 If you are someone who takes a lot of pictures and who doesn't remember if they downloaded a picture off of their camera before or not, you will benefit from the Duplicate Picture finder software. With the Duplicate Image finder software, it takes the guess work out of taking and saving pictures onto your computer. You never have to worry about whether or not you saved a picture to your computer before because with Duplicate Image finder you can search for the image and it will tell you.
Pictures that you save again and again take up room on your hard drive, but when you use Duplicate Picture finder, you don't have to worry about taking up all the room on your hard drive with extra copies of pictures because it tells you right away when you have duplicated an image.
Simply install Duplicate Photo Finder on your computer and then use the program to look through your folders to see if there are any duplicate images on your computer. Digital Image Finder is so easy to use and takes no time at all to install on your computer. The program is very small and won't take up hardly any space on your hard drive It is also completely safe from viruses.
Give Image Comparer a try - it's completely free so you don't have anything to lose by downloading it onto your computer. No matter whether you are a novice or an expert at using the computer, you won't have any trouble using Digital Picture Finder. It's so easy that a child can use it too if they want.
Duplicate picture finder is an intuitive program that immediately finds duplicate images and tells you what they are so that you can get rid of them. Make certain you download duplicate finder and use it to scan your computer for any double pictures that you might have that are cluttering up your hard drive.
Once you try Image Comparer you will agree that you wonder how you ever did without it. Digital picture finder is the best software of its kind and its useful for just about anyone who takes and stores pictures on their computer. Many people have tried it and are very happy with the results, so you want to try it for yourself and see.
Remember, duplicate picture finder is very easy to use and will help you to find any and all duplicate images on your computer. Try Image Comparer today!
Related pages:
Paid Version Benefits:
FREE technical support
FREE updates
No time limits
No nag screens
No feature limits