Movie Playlist Software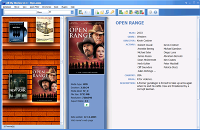 Are you delighted with WinAmp playlist feature? Don't you think it is great for music play? Have you ever think about playlist for your video files?
All My Movies is a great way to make an advanced playlist for your movies stored on the local or network drives. Besides the fact that All My Movies is able to get movie details automatically from the internet movie databases, it also can store a full path to the video file and able to start playback.
This is a great opportunity for the Media Center PC owners because they can easily navigate their movie collection and play movies using remote control.
Even in case you haven't remote, All My Movies as an advanced playlist is still for you!
Imagine the movie list with the full movie details - movie posters, cover image, synopsis and the cast data. You can navigate through this list just like you turn over the magazine's page. Want to know more about some movie star? Just click on his name! All My Movies offers these features to you along with the many others.
Now some technical stuff to make your movie collection acts as an advanced video playlist. The only thing you should to do to make a movie record playable is to fill correct path to the video file in the "Local path" property. Also I advice you to set the correct "Media type" field value.
When you are done, make sure the green "Play" button on the main window's toolbar is active.
Have fun with your new movie playlist and show it to your friends!
Our customer say
All My Movies
-
Very easy to use
"Great program for keeping your movie database updated. Highly recommended!!!"
Perry Davis
- Rating:
4.7
-
Paid Version Benefits:
FREE technical support
FREE minor version updates
No time limits
No nag screens
No feature limits