Download DVD cover art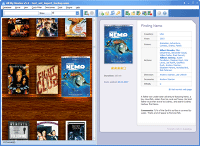 Do you want to find any DVD cover art? It can be easily solved with help of All My Movies software.
This short article describes how you can look for the DVD cover images and download them instantly.
All My Movies supports DVD cover art download from the several internet movie databases. It makes a query to these databases by the movie title, parses the result, finds the dvd cover url, downloads it and attaches to your movie collection. You are also able to save the dvd case cover to the regular image file.
And now the main part of this article. How YOU can download dvd cover.
There are several ways to do this with All My Movies.

The first one and the simplest one:
1. Select (highlight) the movie you want to download cover art for.
2. Use menu item "Movie-Download large cover" item. The query will be started and you will get a cover instantly or after you select the right one from the search results.

This method is good for the express dvd cover art download. You are not able to select cover internet database used for the query in this case. The default internet movie database will be used. It can be changed in the Preferences window.

If you need more control on the dvd cover download you should use the second method:
1. Double click on the movie title in the list to bring up "Movie card" window.
2. Use dropdown list near the Import button (the small button to the right of the "Orig. title" field) to select the internet movie database to query the dvd cover.
3. Click the Import button to process the query. DVD cover should be downloaded instantly or after you select the right cover art from the search results.

You see, it is quite simple to find and download dvd movie cover with All My Movies.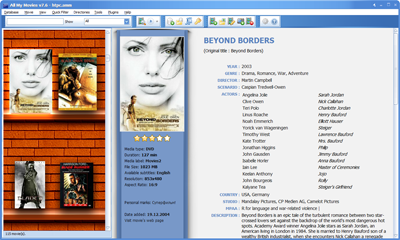 After you have the movie titles with the cover art attached in your collection, you may want to get a printable dvd movie cover. And again, you have two ways to do this with All My Movies. First one is to save dvd cover to the regular image file and print it using any image viewer or editing software like ACDSee or Adobe Photoshop. The second way is to use All My Movies feature to produce HTML reports. Use menu item "Tools-Export to HTML..." and select the "DVD cover&quot template. Then click "Process" button and you'll get a HTML file with your cover arts formed. Now you are able to print dvd covers from any web browser like FireFox or Internet Explorer.

All My Movies since v5.0 is able to print DVD cover art with the built-in template. You can access this function using menu item "Movie-Print collection"

I hope you have the best dvd cover print solution at this moment.

Good luck ;)
Paid Version Benefits:
FREE technical support
FREE minor version updates
No time limits
No nag screens
No feature limits