Movie Database Software
Installation File for Windows Vista/7/8/10
FREE DOWNLOAD
(Official Download. No Toolbars, No Ads, No Third-Party Bundles. Easy to Uninstall.)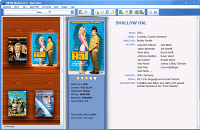 We have a solution for making your personal movie database quick and easy! Lets see how easy it is to add a movie to the database using All My Movies catalog software ™.
1. Type the movie title or scan a barcode

or

2. Select your movie from the search results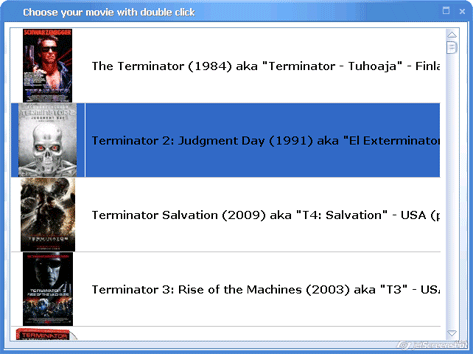 You are done! Your movie just has been added!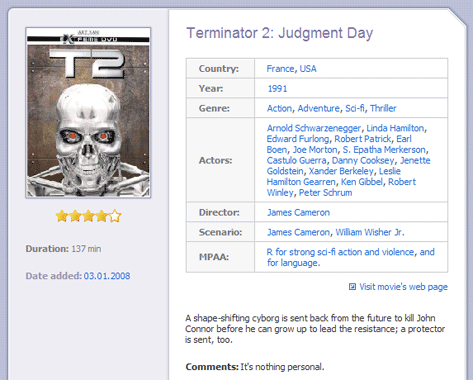 You see, you can add a hundred of movies within a hour! Still don't know why do you need it? Read the right column to get tuned!
Some words about offline movie database appearance. The list of movies available can be configured quite easily. You can add columns into the list, for instance movie release date. One of the things I like is how you can group the movies in the list. For example, to group movies by genre, use the context menu by right-clicking on the movie list. Select the "Group by - Genre" menu item and get a tree list with the number of movies in each genre shown. There are many ways to group movies for example by release date, first letter of the title, and director name. There is also a traditional search feature available. There are also several ways to filter and sort the movies list. This is done directly from the movie card. For example, if you left-click on the actor name, the program will offer you to display all movies where this actor starred or find extended information about this person. By clicking on a genre in the movie card, you can group movies by genre or display only movies in the selected genre. The implementation is quite convenient and intuitive.
Our customer say
All My Movies
-
Very easy to use
"Great program for keeping your movie database updated. Highly recommended!!!"
Perry Davis
- Rating:
4.7
-
10 Reasons why should you use All My Movies™ as your standalone Movie Database
Everybody wants and needs to get things organized. All My Movies does this ALL for you for ALL of your movie collections
All My Movies will create a video database for you that will help you easily keep track of ALL your movies. Quick, easy and FUN!
All My Movies remembers all the disks you have lent to somebody. Never again do you have to lose your movies, or remember who you lent them to. All My Movies keeps track of them all for you.
With easy organization and many, many categories, you will be able to locate a particular movie in a matter of seconds. You never have to rummage through your shelves or DVD boxes again.
All My Movies will help you to determine and search by your favorite movie genre. It can show you statistics for just about every genre. Many other statistic possibilities are available due to the storage techniques used by All My Movies.
All My Movies will allow you to see who played the main role in each movie and will also show you an actor photo and his or her biography if you want.
All My Movies will contain many interesting details about your movies and celebrities. Starring roles, supporting roles, second string actors, etc: the list goes on, all with their own biographies.
All My Movies will show all your movie title covers like glossy magazine pictures.
All My Movies will impress your friends on how fast, quick and easy it is to find your movies and all the information and details about each movie.
All the possible benefits of using All My Movies outweigh the several hours (or even minutes!) that you've ever spend looking for a movie in your database.