Collection Organizer Software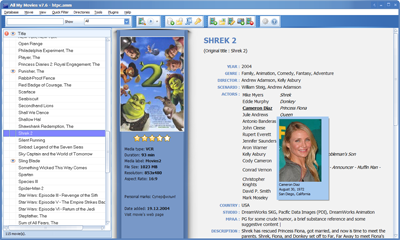 People love to collect things and they love their computers, so it's easy to understand how collection organizer software has become so popular. We all have the urge to stay organized and keep track of our precious collections, whether it's a valuable collection of porcelain figurines or a vast collection of favorite DVDs or books. List-making software can be found anywhere, from free programs that do little more than you can do with a word processor or database software, to expensive and complicated programs that make cataloging your collections one more unpleasant chore on your long to-do list. It doesn't have to be this way.
Before computers, a person's collection organizer system probably consisted of a pen and paper. Some people still prefer this method, but for most of us the wonderful efficiency of the computer makes almost any such task simpler and easier. With a computer and an Internet connection you can bank and manage your finances, pay bills, shop, find information on virtually any subject, connect with friends and family, create documents, listen to music, and organize anything you want (and likely would have done at one time, on paper). And that's just the beginning of what a computer can do.
Using the right collection organizing software is important. If you want to write a letter, you'd use the word processer, not the spreadsheet program. Nor would you try to manage your checking account in your word processor. Both could be done, but they would be difficult enough that you probably wouldn't try it again. So don't try to keep track of your collections in any of those applications-use software designed just for that purpose, and the process will be fun and easy.
There's absolutely nothing wrong with keeping a list of your DVDs or books in a database program or spreadsheet program, of course. You could even just type a list into your word processor. Or you could use a free program for list-making and collections where you fill in the title of the collection and then make a list, much as you would in a spreadsheet. But collection organizer program used to catalog your books or DVDs that's specifically designed for those things comes ready made for your information.
You won't need to set up columns for 'title' and 'author,' nor will you need title the whole thing and keep adding columns as more categories occur to you. Good collection organizing program comes fully ready for you to start plugging in your DVDs or books. And collection organizer software designed for books and DVDs will offer graphics, detailed information and sorting options that you won't get anywhere else. Software that uses the Internet to fill in all the details for you-try that with generic list software!
Use your computer for something more fun than balancing your checkbook or paying that utility bill. Organizing your collections doesn't have to be just another hum drum task on your list if you use the right collection organizer software.
Our customer say
All My Movies
-
Very easy to use
"Great program for keeping your movie database updated. Highly recommended!!!"
Perry Davis
- Rating:
4.6
-
Try our great collection organizing applications today!