All My Movies - the Formula of "Delicious" Cataloging Software!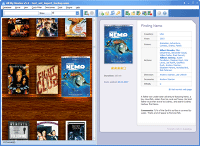 Hi everybody! Today we're going to devise the formula of the hit cataloging software of the twenty-first century and the future. We've picked up and analyzed the "recipes" of cataloging software from all over the world and have devised the formula of the hit, award-winning movie organizing programs for your movie collections. You're 100 per cent a movie fan, aren't you? Well, most of us are these days actually. So, today we're offering you our formula of the best world movie cataloging software. Let's consider the major ingredients.
The first and the most important ingredient is easiness, simplicity and amazing convenience of using such cataloging software. The interface should be really helpful - it is supposed to make the whole process strikingly easy. As a rule, you have an opportunity to add movies to your library in a number of ways:
Installation File for Windows Vista/7/8/10/11
FREE DOWNLOAD
(Official Download. No Toolbars, No Ads, No Third-Party Bundles. Easy to Uninstall.)
adding all movies to your collection at once using "Scan drive for movies" component;
adding movie from file;
just having entered the movie title.
The next ingredient is the wide range of video formats accepted by the cataloging software and online databases the info is taken from. It should be able to work perfectly well with DVDs, Blu-rays, CDs, AVIs, even VHS tapes. Besides, such software should use very popular online databases and the list of them should be constantly growing!
Then, another important component is printing. You have to have an opportunity to print separate movie cards and the whole collection, so that you could be able to choose what to see tonight with your family. The hit cataloging program should be able even to print DVD boxes right from the program and using it must be game and glee!
Going on, it's reliability and great functionality of this cataloging software! You see many programs possess separate features, some really useful options, but we need the hit 21st century cataloging software that is a dab hand at movies and the one which possesses all these features. So, the hit program allows you to: sort and group the movies in various ways, export and import the database to different applications, show statistics of your database, play movie right from the program, etc.
Don't forget that cataloging software should be personal and an opportunity to create fields for the data that you personally need, and a chance to set personal marks are really appreciated and a must-have for the hit movie program!
"Flavor" it with large colorful covers for movies, nice individually tuned up templates, virtual shelf mode and you'll be thrilled with what you get in the end! These will make your cataloging software "dish" really eye-gladdening, very beautiful, slap-up!
Add to these fast updates and lots of regular improvements suggested by users themselves, quick support and you get the recipe of the cataloging program of your dreams! So, try the hit movie cataloging software All My Movies and you'll fall in love with it for sure!
Our customer say
All My Movies
-
Very easy to use
"Great program for keeping your movie database updated. Highly recommended!!!"
Perry Davis
- Rating:
4.5
-
10 Reasons why should you use All My Movies™ as your movie cataloging software
Everybody wants and needs to get things organized. All My Movies does this ALL for you for ALL of your movie collections, both for DVD and Blu-ray discs
All My Movies will create a movie catalog for you that will help you easily keep track of ALL your movies. Quick, easy and FUN!
With easy organization and many, many categories, you will be able to locate a particular movie in a matter of seconds. You never have to rummage through your shelves or DVD boxes again.
All My Movies will help you to determine and search by your favorite movie genre. It can show you statistics for just about every genre. Many other statistic possibilities are available due to the storage techniques used by All My Movies.
All My Movies will allow you to see who played the main role in each movie and will also show you an actor photo and his or her biography if you want.
All My Movies will contain many interesting details about your movies and celebrities. Starring roles, supporting roles, second string actors, etc: the list goes on, all with their own biographies.
All My Movies will impress your friends on how fast, quick and easy it is to find your movies and all the information and details about each movie or a person.
All My Movies will show all your movie title covers like glossy magazine pictures.
All My Movies remembers all the disks you have lent to somebody. Never again do you have to lose your movies, or remember who you lent them to. All My Movies keeps track of them all for you.
All the possible benefits of using All My Movies outweigh the several hours (or even minutes!) that you've ever spend looking for a movie in your list.