Ultimate File Comparison Software and Document Comparison Tool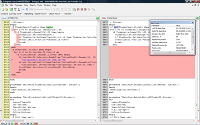 Do you often catch yourself at being too lazy to sort out piles of similar files on your computer? Nothing is more boring, time-consuming and eye-breaking than ensuring order in files and folders manually. With the help of Compare Suite all your files will be in apple-pie order within just a few minutes!
Compare Suite is a try-before-you-buy utility developed to compare files and to quickly identify their differences. The program's interface will let you easily integrate Compare Suite into your business system. Compare Suite allows comparing files of popular formats, using such compare methods as "by words" and "by keywords", comparing folders and generating a comparative report. Document audit function is also available.
Just think of the benefits Compare Suite provides and you would not want to look back at the time when you had to do without it.
Save your time with Compare Suite
No more manual digging through words and letters. Let the hard work be done by Compare Suite within a second.
Save even more time with Compare Suite
You don't need to grovel obscenely through tons of technical documents to start to work with the program. Just install Compare Suite and process your files. Despite its great functionality, the program is still very easy to use.
Save your eyes with Compare Suite
The program's user interface was developed according to the latest health standards. Let your eyes have a rest while you are working with gentle differences highlighting.
You are in just one step away of your reliable personal everyday assistant. One user license costs as little as $70 and as our customers said, "it's worth every penny". And again we offer you an ability to save more money! Recommend Compare Suite to your friends and you can get a license even cheaper since we offer volume discounts.
Today we all operate computers. Some jobs like programming or writing implement working with huge volumes of information on every-day basis, and such professionals just can not do without this kind of programs. But once in a while we all have to deal with big volumes of info: for students it's writing a term or a graduation paper, for managers it can be preparing seasonal sales reports, for lawyers - preparing a speech at court. And we, too, should accustom ourselves to use such kind of programs for one plain reason - they save our time and health, and what is more precious than that?
Hundreds of similar files may be stored on your hard drive and you do not even remember of their existence. When browsing through internet we can not stop ourselves from saving whole bunches of web-pages on hard-drive, one after another, without speculating much whether we really need this information. We pollute our computers with files which could be easily checked, compared and all odds cut off.
Help your PC get rid of the mess, get a personal assistant that will always be there for you to compare all the duplicate files and folders no matter where they are saved and what kind of files they are. The program will work like Cinderella with your files, find any differences and kindly highlight them.
Still hesitating?
Take your time and check out Compare Suite features:
Comparison "by keywords" allows you to match non-related documents with different structure.
Compare two folders feature allows you to find and synchronize changes that were made in two folders.
Report can be created once you compared two files or folders. It contains detailed comparison information.
Document audit allows you to accept or decline changes that were made in plain text files.
Ignore words. Starting version 5.0 Compare Suite can ignore certain keywords or strings while comparison.
Syntax highlighting. Compare Suite can now highlight syntax for some popular formats, such as .pas, .php, .htm and others.
Multimedia and graphics comparison. Compare Suite can compare data from multimedia and graphic formats.
Command line allows you to automate comparison and integrate Compare Suite with other software products, Compare Suite can be a part of quality assurance script set.
Server-side comparison. Surprise your employees with ability to compare documents on-line.
System requirements
Compare Suite requires a PC with Windows 98/ME/2000/Vista/7/8/10/11 to run.
Document Comparison Software
Compare Files with Ease!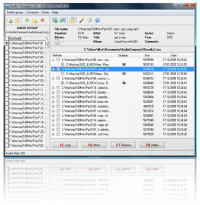 Find duplicate MP3 files
with Audio Comparer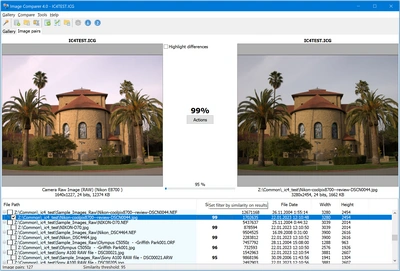 Find Duplicate Photos
with Image Comparer