Ant Movie Catalog Alternative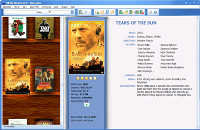 Have you been using Ant Movie Catalog for some time and now you're looking for something more reliable and functional? With All My Movies organizing your movie collection is easy and fun. It's a multilingual movie catalog application, which supports English, Russian, Greek, Dutch, French, Belorussian, Latvian, Polish and other languages. There's hardly a movie organizer which can boast such a number of interface languages.
In short, All My Movies is a movie organizer solution similar to Ant Movie Catalog but with several benefits. You are able to export your collection to many formats including PDF, HTML, CHM, MS Excel and other. You are able to get every actor details with single click from the online databases including actor photo, biography and extended details. Your movie collection will really be perfect with All My Movies!
How to import your existing Ant Movies Catalog collection to All My Movies
Yes, it is possible to import your movie collection created with Ant Movie Catalog to All My Movies quickly and easily. Simply follow the step-by-step instructions listed below:
Start All My Movies
Use menu item "Plugins-Import from Ant Movie Catalog Base" and select your current database (it has .amc file name extension)
Wait until the conversion is done. That's all!
Ant Movie Catalog Migrants Special Offer
If you already have a Ant Movie Catalog license you do not need to order All My Movies at full price. We offer a great discount for migrants from Ant Movie Catalog. Proceed to our special offer page to save some money.
All My Movies™ Benefits. Ant Movie Catalog vs. All My Movies
Below the advantages of All My Movies over Ant Movie Catalog are listed, which were provided by the users themselves who migrated to All My Movies from Ant Movie Catalog software and who are very glad to have done this:
"All My Movies has a lot more to offer, including a very attractive presentation of the collection data."
"All My Movies offers better features for importing video files."
"I'm specially interested in the posibility to import the movie's names from avi files stored in the HD. The html export and plugin features are very interesting as well."
"I have been looking for a software program that will allow me to use my cuecat scanner to add new movie titles to my collection, which is faster and/or more specific that manually typing in a title or loading the DVD in my computer."
"Wanted something that was more robust and allowed lookup by ISBN or Bar Code."
"I was looking for an easier movie catalogue software, and liked yours very much."
"I tried ant movie catalog and decided it was too tedious to organize the movies. I then saw yours and seemed much more complete"
"All My Movies has a nicer layout and seems to do a better job retrieving movie info from other sites."
"One of few Organizers i found with ability to associate with ISO files. Others only allow avi/divx format. Excellent!"
Your best choice is All My Movies ™
You can download All My Movies™ and evaluate it completely free of charge!
Our customer say
All My Movies
-
Very easy to use
"Great program for keeping your movie database updated. Highly recommended!!!"
Perry Davis
- Rating:
4.8
-
Our customer say
All My Movies
-
Amazing product!
"I have over 350 DVDs and I first realized I had a problem when I purchased a movie I already had in my collection. In addition, I kept forgetting who I lent my movies to an indeed lost some. I got All My Movies and all problems solved."
Andy Aqui
- Rating:
4.5
-
---