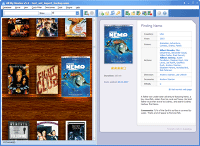 Do you really love watching movies?
So much that you even can't remember which of them you've seen already? Then you need someone really clever to keep an eye on your movies and organize your movie collection quickly and easily. All My Movies, high-end software that masterly keeps track of the movies you've watched, is here to make your life easier!
Why is All My Movies what you've been searching for?
First of all, this powerful program will help you not just to keep track of your movies, but also cleverly catalogue the movies you possess. In the same place, in the same program you'll have the entire info from IMDb and other super popular databases available in various languages. Instantly you get the trailer link and all technical info about the movie, including brief plot summary and screenshots! Moreover, you're going to have all the info about the actors and directors right at hand - any time you'll be able to update the info just in a couple of clicks! That's really terrific!
Got problems finding movies?
Great! Forget about them - no matter how enormous your movie collection is, All My Movies is sure to find a needed one easily, thanks to awesome search functions! You can keep track of your movies searching by one criterion or several at once! Besides, due to Location directory, you instantly know where exactly the film is. As simple as that!
Lent a movie to one of your friends and now can't remember whom exactly?
No problems at all! All My Movies is a perfect movie-guard! The software has got Friends directory and a superb loan manager which helps you to control your collection skillfully. No more worrying about your movies - All My Movies is the software to be trusted in keeping track of them!
Want to have a pretty catalogue?
You've chosen the right way! Templates diversity, an expanding variety of skins available, award-winning Virtual Shelf Mode - all these features make the program really attractive and gladdening your eye. The ability to have pop-up windows of actors' photos, containing brief biography information, will blow your mind! Persons directory, so much loved by the users, is absolutely brilliant! You'll be able to not only keep track of your movie collection but also be in the know of all the latest news about actors, directors, etc! It's a smart guy who knows everything about everybody!
Keep track of your movies with ease!
So, you see that keeping track of your movie collection is not that difficult. The only thing you need to do - is to choose the right program! For All My Movies it doesn't matter whether you're trying to keep track of a dozen of movies or a thousand movies - it knows its stuff, for sure!